DGMA Championship 2022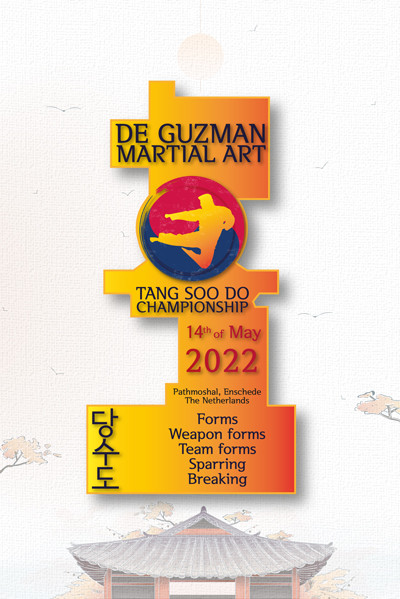 February 2020 we held one of the last tournaments in Europe and it was a succes!
After a year of no competitions in the Tang Soo Do world and a pandemic still going on we try to do our normal thing again. Practitioners are training again and are craving for a tournament.
Our country is opening her borders again and clubs in the Netherlands are training indoors also.
The latest infromation about our venue:

Beneath is the tournament schedule of the day:
Location: Pathmoshal
Adress: Veilingstraat 20
Place: Enschede
Doors open: 08:00
Briefing officials and judges: 09.15
Line-up: 09.30
Group picture: 09.45
Start: 10.00
End: 18.00 *We hope to end before this time
Tournament schedule:
- Line-up
- Opening and ceremony
- Group picture
- Masters Hyungs
- DAN grade Hyungs and weapons - Also on the same time we will start on other fields with our youngest competitors
- Team hyungs kids till 13 years and team hyungs 14 years and above
- Kids till 13 years
- Hyungs
- Weapons
- Breaking
- Sparring
- Grand champion overall price for kids till 13 years
- Break (lunch) 30 minutes
- Competitors 14 years and above (GUP grades)
- Hyungs
- Weapons
- Breaking
- Sparring
- DAN grades sparring
- DAN grades breaking
- Grand champion overall price from 14 years GUP grades and also DAN grades
- End